Gym Wet Wipes Dispenser
Thank God we are in the vaccination stage of Covid-19 finally. Life will never be the same now.
We all became very cautious about our hygiene, thanks to Covid. So now we take care of all the hygienic practices, like having washed our hands or not, if water is not available to sanitize our hands properly.
But life goes on and on; we have to get back to our routine. We have to go to Offices, Gyms, Hospitals, Airports we can't stay at home forever.
Thanks to the Research & development departments worldwide, we have made such products that can help us ensure hygienic practices.
Gym Wet Wipes Dispenser Features:
Stainless Steel floor stand gym wipe dispenser has a large base for added stability

High capacity 7-gallon built-in trash for less frequent servicing

Easy access door for emptying waste receptacle + includes a waste receptacle

Improved nozzle for hassle-free wipe dispensing + has wipe holding bucket

The dispenser is 36″ h x 14″ w, with a 41.75″ circumference, and holds most standard gym wipes
Wet Wipes Dispenser Specifications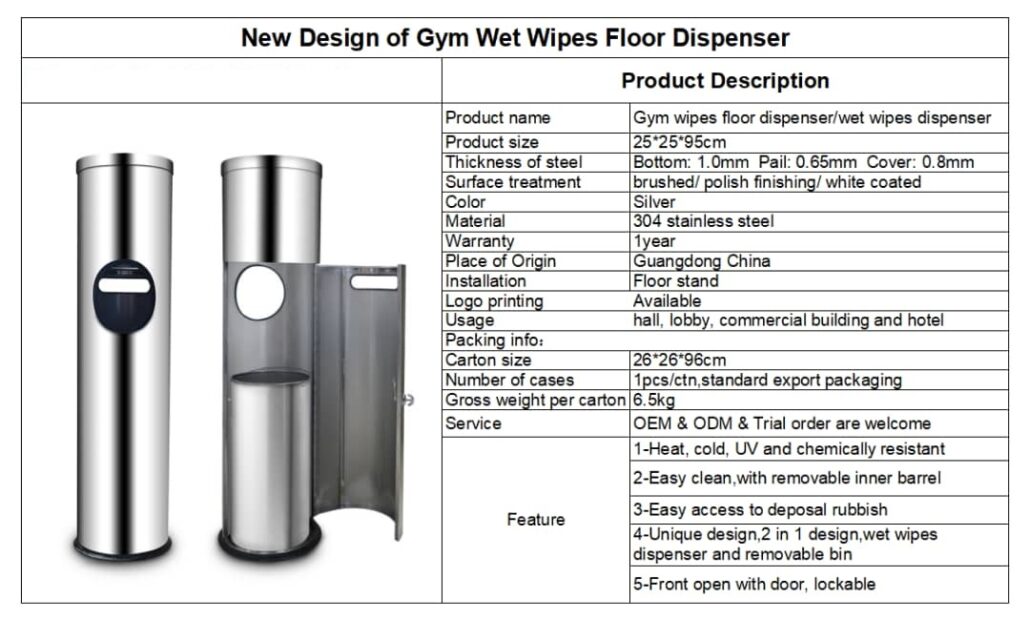 Gym Wet Wipes Dispenser Demo Video:
Description
Send inquiry for Wet Wipes Dispenser at:
WhatsApp: +923015394383
About
An ecommerce site that has already been operating since 2016 and is a division of (E-Commerce 360 (Pvt) Ltd). Our goal is to give Pakistani consumers who lack credit cards or other means of importing the best imported goods. We have 1000s of satisfied customers all over the world especially in Pakistan.
Reviews:-
Ravishing collection
Store Opening Hours:
Monday-Saturday  10 Am to 7 PM (PST)
Our office address
Company Name:-
E-Commerce 360 (Private) Limited
Office no: 06 Rashid Arcade, 1st Floor, PWD main road, Islamabad
[email protected]
WhatsApp / Mobile: +92 301 53 94 383
Landline: +92 23 74 604